Do you use a Magic Trackpad or a mouse with your Macbook or Macbook Pro? Do you accidentally bump the onboard trackpad and wish it would automatically turn off when you use an external pointing device?
Well, this is easily rectified. However, the setting is not in an obvious location.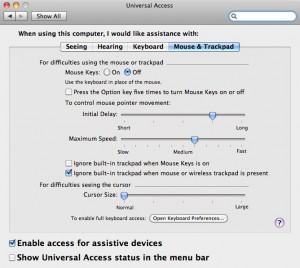 Open System Preferences
Click on the Universal Access applet
Click the Mouse & Trackpad tab
Select the Ignore built-in trackpad when mouse or wireless trackpad is present checkbox
Just remember to turn off the Bluetooth connection for the Magic Trackpad if you temporarily take your laptop to a nearby location, such as a meeting room, or you will have a rude reminder that the onboard trackpad doesn't work.